Help
This section answers frequently asked questions and provides a help guide for using the CSA Group Public Review site.
How to Start Reviewing Draft Standards:
Select register at the top of the page and follow on screen instructions. The sections that are required are marked with an asterisk.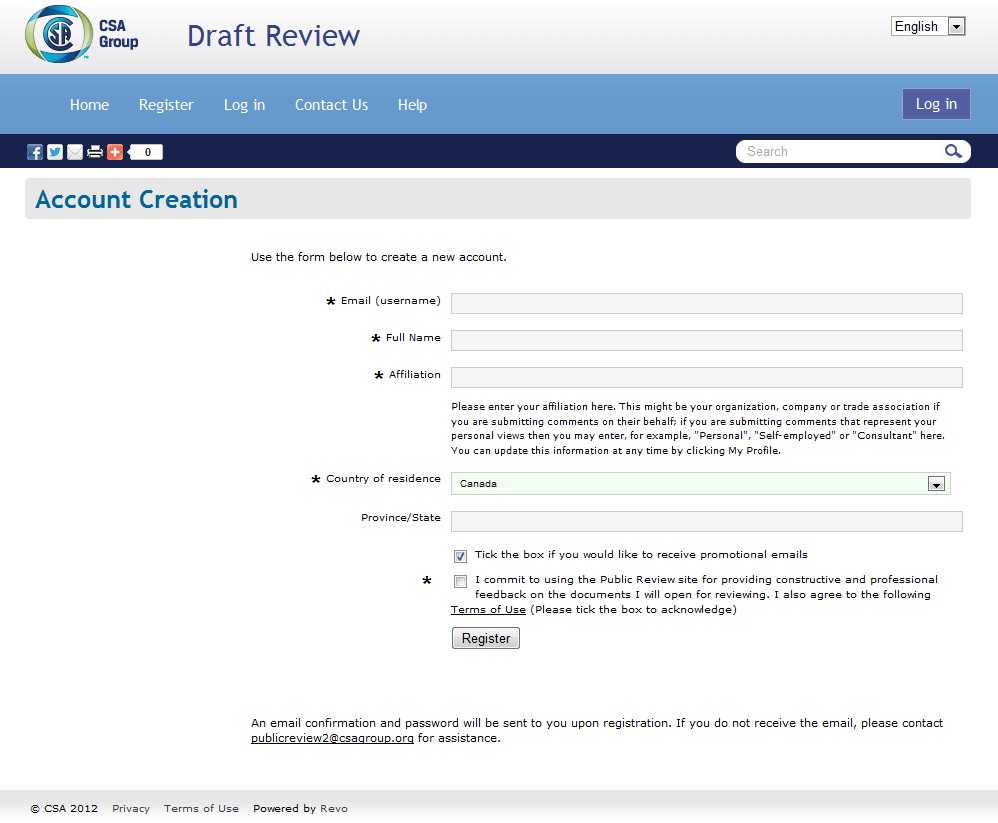 Log in once you have registered, you will have received a default password by email. You will be prompted to change your password when you log in for the first time. You can edit your password on the My Profile page any time thereafter.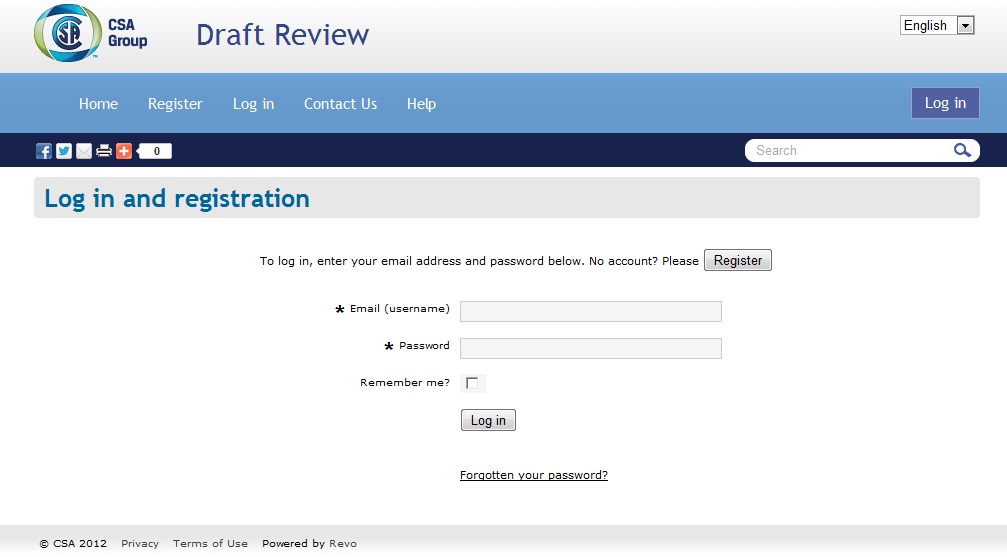 Updating Your Profile, allows you to update information about yourself, change your password and manage your subscriptions. You also have the ability to personalize your email notification preferences for any additional information or notification you may require.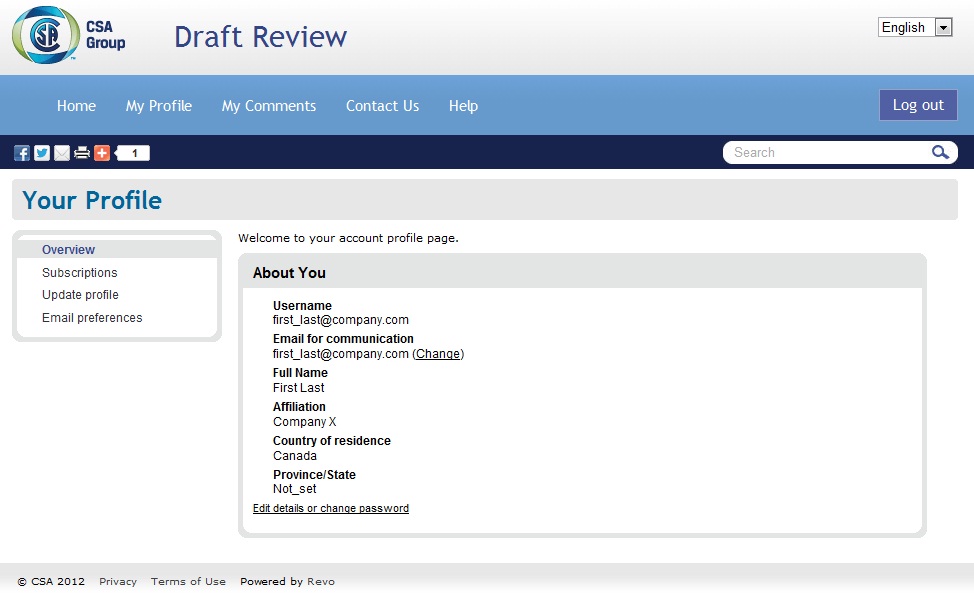 To find a draft you can select a standard you are interested in, use the search bar to find a particular draft or alternatively select one of the industry headings and browse the drafts that are available.
Navigate through categories that interest you.
Search by keywords, identifier number, title or committee.
Select from most viewed drafts also listed on the homepage to promote a variety of standards currently available for comment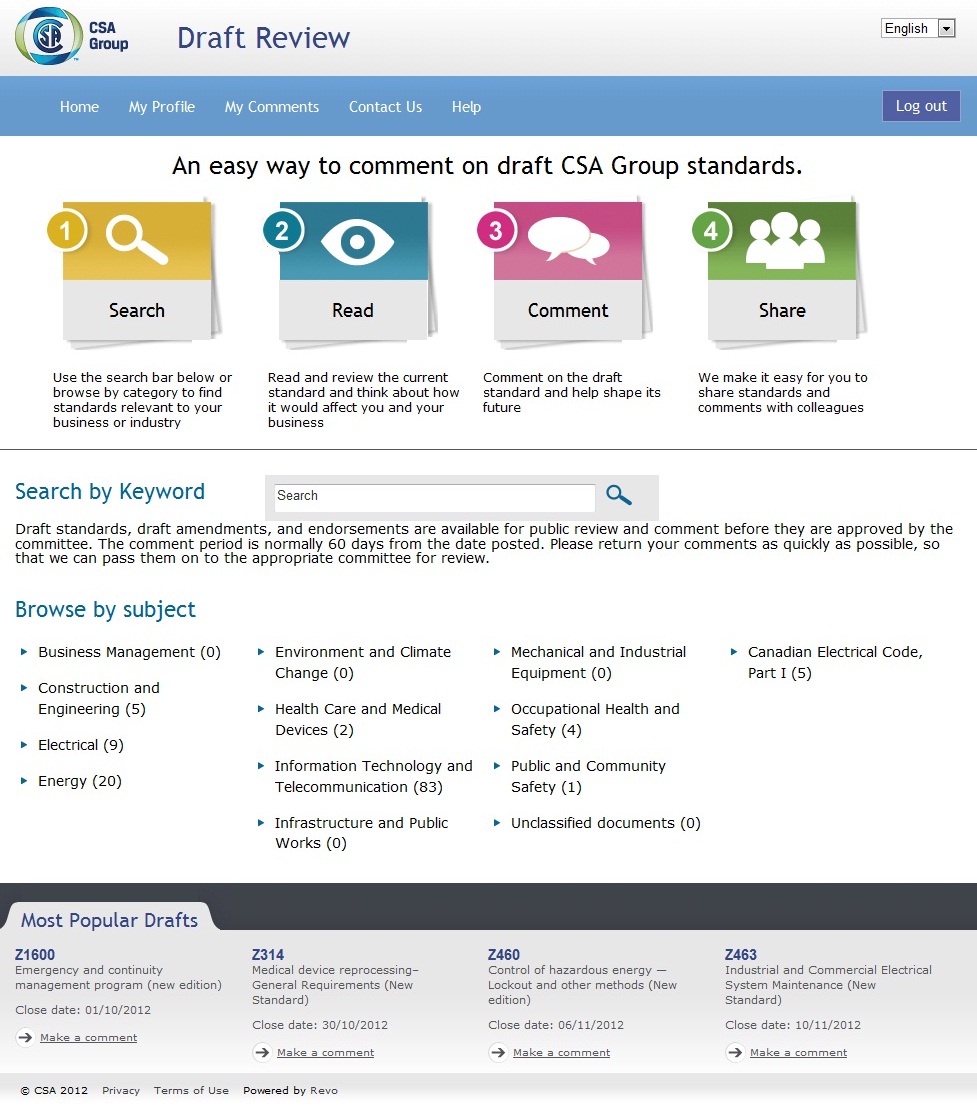 There are a number of ways you are able to find out when new drafts are online.
You can also set up a RSS feed, instructions can be found under the Feeds section.
Manage your subscriptions to keep you updated on latest drafts that interest you personally.
Read, comment and share. Information on commenting on sections can be found below.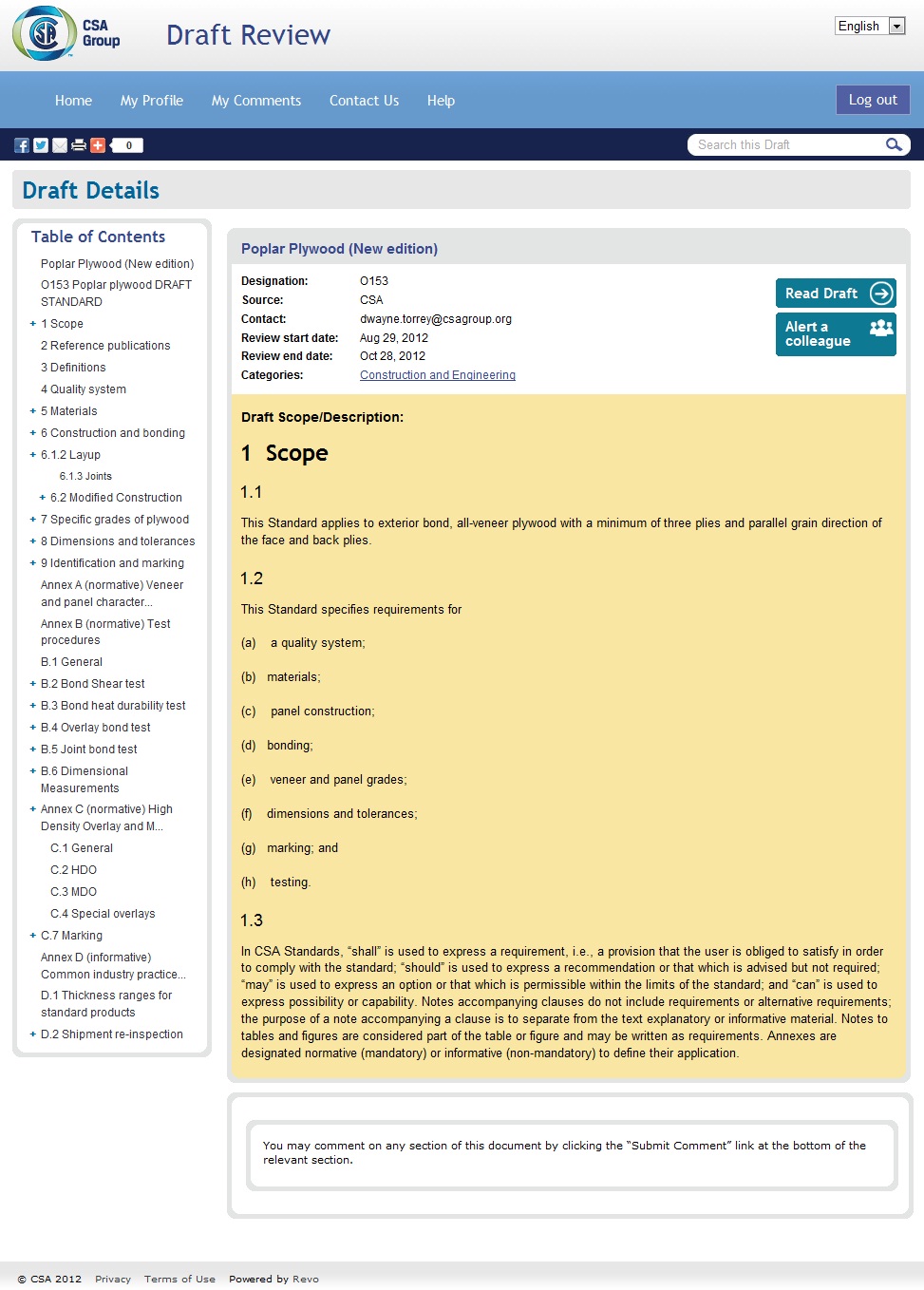 Navigating through drafts is easy when using the 'Table of Contents', this allows you to select which section you want to read, comment or refer back to at any time. Each section allows you to select the previous section and the next section of the draft, enabling you to comment specifically on particular parts of the document.
Making comments on the drafts couldn't be easier; each draft is organized so you can comment on particular sections. The text boxes have a capacity of 2000 characters, as well as the option to either submit the comment straight away or save for later. My comments allows you to monitor and manage all the comments you have submitted or saved.
The comments submitted are not visible to other users of the CSA Group Public Review site.
Once you have clicked 'submit comment' you are automatically agreeing to our Terms of Use.
Writing comments that address the validity, purpose, usability or clarity of the draft standard would be the most beneficial approach when submitting a comment and proposed change.
The text boxes provided allow you to use bold, italics, underline, symbols and bullet points. If you do not have JavaScript enabled or prefer using plain text you can opt to disable the enhancements.
'Comment type' requires you to verify the nature of your comment:
General - Comment on the document as a whole, using the current section as a starting point or as an example
Editorial - Comment on spelling, grammar, punctuation or layout that does not affect the application of the document
Technical - Comments which have practical implications on the application of the document
'Comment on behalf of' relates to whether you are commenting on behalf of your organization, committee, company etc.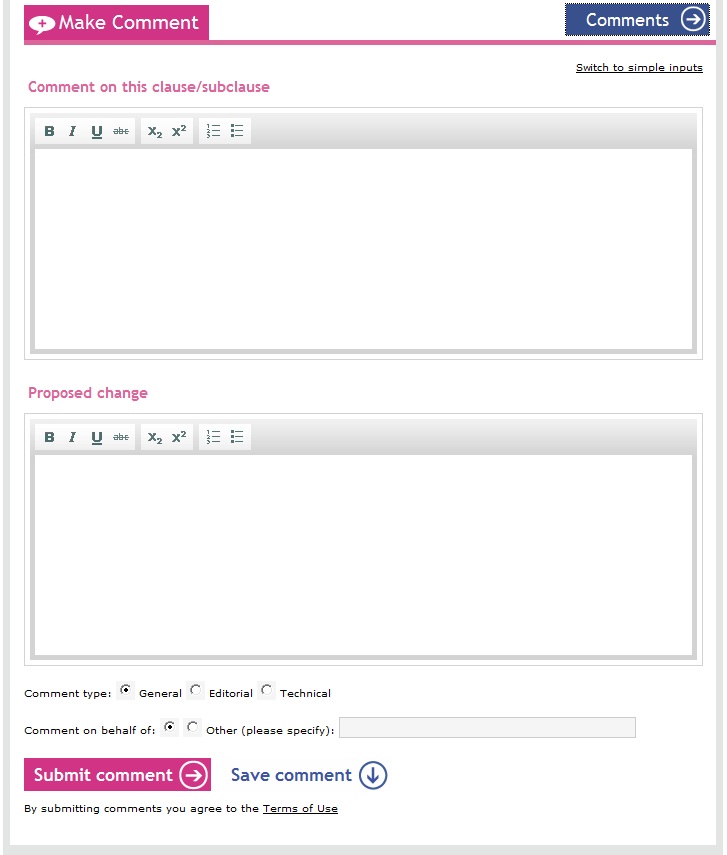 Share your comments to draft standards either by sending them an email, via Facebook or by twitter direct from this website.
With the collected comments, CSA Group and relevant CSA Group technical committee members review all comments and proposed changes via meetings conducted by a representative group of experts using the CSA Group formal procedure to review every comment. Unfortunately it is not possible to provide individual feedback on your input, however every comment submitted is considered and the final published standard is benefit.
CSA Group may contact you, usually to get further clarification on comments and/or proposed changes submitted. Please see our Privacy section for further information.
Subscriptions to particular industry categories are available to sign up to on the individual category pages; all you have to do is click subscribe and when new draft are available under the industry you've selected, you will be notified by email. You can manage your subscriptions and email notifications under My Profile.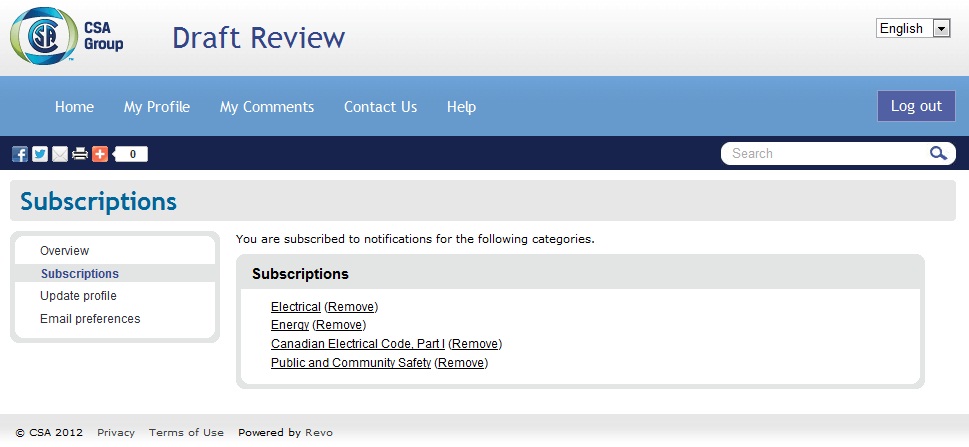 Using access keys to navigate on this website has been provided to allow you to move from page to page easier and faster.
Firefox 2 & 3: hold down Alt and Shift
Internet Explorer: hold down Alt
Google Chrome 3 & 4: hold down Alt
Safari 3 (Mac): hold down Ctrl
Safari 3 (PC): hold down Alt
(For other browsers please check the browser's help files)
Then press one of the keys listed below:
S Skip navigation
1 Home page
6 Help
8 Terms of Use
9 Contact us
0 Accessibility statement
= Previous section (when viewing a draft)
– Next section (when viewing a draft)
If you have any further questions regarding this website that is not covered by this help page, please contact us at [email protected].
For further contact details, please see our Contact Us section.